Sunland Gives Back Through AGC's Young Constructors Forum
10 August, 16 / Community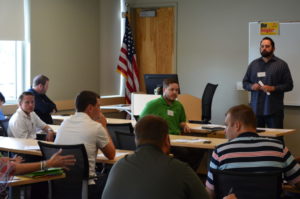 The Arizona Chapter Associated General Contractors (AZAGC) Young Constructors Forum (YCF) participated in a 30-week program where 7th and 8th grade students are given the opportunity to explore a career path of their choice. Sunland's YCF Members Rick Risner, Alex DeClusin and Mike Thompson participated in the program at Landmark School in Glendale, Arizona to help students explore careers in the construction and engineering fields.
Landmark School, which is a learning coeducational boarding and day school that specializes in language-based learning disabilities, paired with Sunland Asphalt and AZAGC to build two raised-planters for the school's courtyard. In the 30 weeks, students worked with industry mentors to bring the planter project from the planning stages to completion. This included designing the plans for the planters, estimating, organizing and scheduling material procurement, field demolition, rough grading, site preparation, surveying, forming, pouring, planter construction, landscaping, punch list, learning closeout documentation and final cost analysis.
In addition building the raised planters, AZAGC YCF supervised six individual site tours and field trips to expose the students to real projects in the industry. These trips included a tour of the CAT facility and demonstration of their equipment, the Southwest Asphalt hot plant, the Phoenix Light Rail construction site, as well as the SR-101 project site.
The goal of the program was to provide positive mentors for students to better understand a career in construction. What an incredibly rewarding and important way to contribute to our community and educate students on their opportunities in this industry!
Check out the video below to hear some of the students explain how AZAGC and the Young Constructors Forum have impacted their outlook this school year: