Meet Cord Williams
22 January, 18 / Project Spotlight
As Foreman, Cord's job includes inspecting equipment to ensure it is in good working condition, and also manages crews to make sure they are putting in high quality work.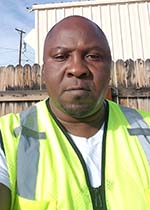 What do you consider your greatest achievement?
That would be putting all my kids through college. Three down, one almost finished. He's in his last year.
What is your favorite town/city in the world? Why?
Durango Colorado. I love the mountains where I can go hiking and fishing, the people there are friendly and fun to be around.
What is one exotic country you would like to visit? What you would do there?
Costa Rica,  I think it's a beautiful country. I would love to visit the jungle and view the wildlife and try the delicious food there.