Meet Kenny Wells!
30 November, 17 / Project Spotlight
As the Superintendent, Kenny supervises various projects consisting of making sure all people involved with the project understand the tasks and are aware of any hazards. He also focuses on giving a quality product and that the owner is satisfied.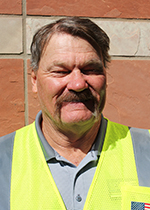 What would you like to be known for?       
Being a superintendent that was not afraid to train someone to replace me.
Which person from history would you most like to meet and why?
General Patton a man with real integrity.
What gift have you received that you will always treasure?
My Father's Guitars!