Meet the Expert: Carolyn Deese
17 August, 16 / Meet the Expert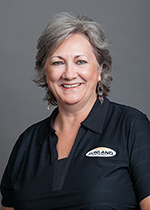 As a new Senior Accountant for our Corporate Office in Tempe, AZ, Carolyn is responsible for assisting with all aspects of the accounting function including cash management, fixed assets, audit preparation, and month, quarter and year-end close. We recently sat down with Carolyn and asked her a few questions to get to know her better.
Describe your position with Sunland. What does a typical day look like for you?
Ensures the integrity of accounting information by recording, verifying, consolidating, and entering transactions. Each day begins with balancing the prior day's cash. The rest of the day is spent renewing licenses, completing banking transactions, researching and reconciling accounting transactions, and assisting the Controller with month end processes.
What's the greatest bit of advice a parent or mentor has given you?
Do unto others as you would have them do unto you. Imagine what a wonderful world this would be if all human beings would live by this philosophy.
How would you spend one million dollars? 
Payoff all debt, get hubby a new truck, complete my "to do" list on the house in Kino, put aside some more for retirement, and pay for the medical needs of the locals in Bahia de Kino, Sonora, MX with whatever is left.
If you could live anywhere in the world, where would it be and why?
A tropical island in the Caribbean because I love the geography, I don't like cold weather, and I would love living a relaxed, laid back lifestyle.