Meet the Expert: Joe Zaleski, CHST, CRIS
23 September, 15 / Our Experts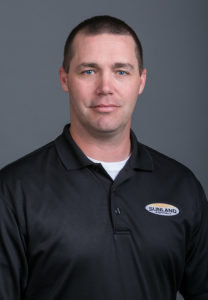 As Safety Director, Joe is responsible for the successful implementation of Sunland's Corporate Safety Management Plan. He is responsible for conducting on-site safety visits and inspections to ensure all Sunland safety policies and procedures are executed.  Joe is also responsible for managing injury reporting and recording, accident investigations, loss control and the return to work program, DOT and fleet management, traffic control, as well as providing additional safety, OSHA and First Aid training for in-house.  We recently sat down with Joe and asked him a few questions to get to know him better.
What is your favorite thing about working for Sunland?
My favorite thing about working for Sunland is the people.  From the executives to our crews in the field, Sunland has a fantastic team.
What is your favorite food?
I love Chicago hot dogs.
What is your favorite song to blast on the stereo on a long road trip?
Hands down, that would have to be STYX (Renegade).
What is the craziest/most dangerous thing you've ever done?
The craziest thing I've ever done would be a 200-foot bungee jump.
What is the most favorite place you've traveled to and why?
My favorite place I've traveled would be Kuala Lumpur Malaysia…it was an amazing city with beautiful architecture.
What is your favorite inspirational quote?
"Someone who, at one point in his or her life, writes a blank check made payable to 'The People of the United States of America for an amount of 'up to and including their own life."  – Veteran
If you won the lottery, what would you purchase?
If I won the lottery, I would purchase an island.