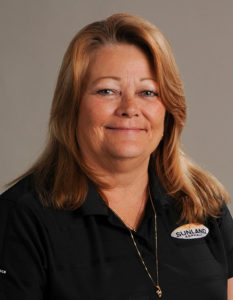 As a Dispatcher for our Northern Division based in Las Vegas, Nevada, Joy oversees the scheduling, staging, tracking and reporting of the division's daily activities.  She assists with deploying work crews, equipment and materials to appropriate locations according to customer requests, specifications or needs.  We recently sat down with Joy and asked her a few questions to get to know her better.
How long have you been with Sunland?
I've been with Sunland for nine years now.  I learn new things every day and love it.
Describe your position at Sunland (What does a typical day look like for you)?
A typical day starts with a group of great guys from Superintendents to Field Personnel, making sure we are ready to perform to get a job done. I am in charge of scheduling the jobs, ordering materials, doing phasing maps so customers know when and where we are at all times on their project. The best part of my job is when we have little snafu's in the field, because it makes us all come together find solutions and we all learn.
What is your favorite thing about working for Sunland?
That I work with great people!  From our Division Manager, super salesmen, great production crews, and awesome support from corporate we all seem to pull together when needed.  It's great!
What is your favorite thing to cook?
I've been known to make a spaghetti sauce… An all-day simmer!
What is your favorite song of all time?
Lots of rock-n-roll!  I can't narrow it down to just one song.
What do you enjoy doing in your free time?
In my free time, I enjoy cruising the desert in my Razor and boating with friends and family.
What is the best piece of advice you've ever received?
To stay strong, it's going to be tough for you in this industry.
If you won the lottery, what would you purchase?
If I won the lottery, I would buy homes for myself and my children.