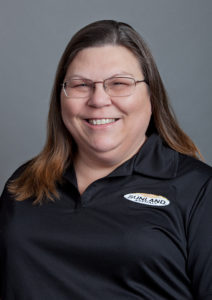 As Safety Administrative Assistant, Rebecca assists in the successful implementation of Sunland's Corporate Safety Management Plan. She creates and maintains safety records, material safety data sheets (MSDS/SDS), and contractor safety performance and qualifications records.  She is responsible for workers compensation filings, processing and medical status updates as well as tracking training hours for our crews.  We recently sat down with Rebecca and asked her a few questions to get to know her better.
What is your favorite thing about working for Sunland?
My favorite aspect of working for Sunland Asphalt is the sense of ownership and family.  The company really has a genuine concern for their employees and wants everyone to be safe and successful.
What is your favorite dessert?
I love German Chocolate Cake.
What's your favorite song?
I love the song "Amazing Grace."  It reminds me of my Dad.
What do you enjoy doing in your free time?
I'm not sure I remember what free time is, but reading and crocheting is what I enjoy outside of work and family.
What is your favorite quote?
My favorite quote is actually a Bible verse, Psalms 46:10; "Be still and know that I am God."
What is your favorite inspirational quote?
"Someone who, at one point in his or her life, writes a blank check made payable to 'The People of the United States of America for an amount of 'up to and including their own life."  – Veteran
If you won the lottery, what would you purchase?
If I won the lottery, I would buy modest but comfortable homes and cars for my family members.