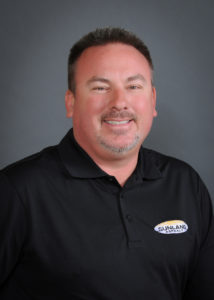 Terry Bartu is a Production Manager with Sunland's Northern Division, based in Las Vegas, NV.  We recently asked Terry a few questions to get to know him better.
How long have you been with Sunland?
I have been with Sunland 4½ years. On November 1st, 2010 Sunland purchased Lamb Asphalt. I was a part of that sale. I like to joke about it saying that Sunland purchased me along with the company.
What does a typical day look like for you?
My day starts around 6:00 A.M., meeting with my Superintendents, making sure everything is safe and in order.  Then I move on to tasks such as time approval, answering emails, returning phone calls, looking at numbers and taking care of any issues needed. I may attend a pre or post job walk as needed.
 What is your favorite thing about working for Sunland?
It is nice to work for a company that will let you do your job as a Production Manager. We are sent work orders and we get them completed.  As Production Manager, along with my Superintendents, we are able to control our own plan on how to produce the projects. This allows us to maximize our production and profit.
What is your favorite dessert?
There are so many good deserts… But if I have to pick one it would be vanilla ice cream with chocolate syrup.
What is the best movie you have seen recently?
I don' see many movies in the theater. The last movie I watched was American Sniper. Great movie, at the end during the credits you could have heard a pin drop on the carpet.
What do you enjoy doing in your free time?
My wife and I enjoy taking trips on our motorcycle, snowmobiling, boating, hiking, mountain biking, hunting and fishing.  When we have enough time, we like to get away to our place in Island Park, Idaho. It is 40-miles from the West entrance of Yellowstone Park. It is the place where we plan to retire.
If you were not in construction, what would you be doing?
Throughout high school and two-years after, I worked on boats, snowmobiles and motorcycles. I would be working in a big boy toy store.
If you could travel anywhere in the world, where would it be and why?
There are three places I would like to travel. The first is the Czech Republic that is where both side of my family are from. The second would be the wilderness or Siberia. I think it would be great to be miles from nowhere. The third place would be New Zealand. It just looks like a cool place.