Movin' On Up: Promotions From Within
09 September, 15 / Team Member Spotlight
Effective October 1, 2015, Sunland Asphalt is pleased to announce the promotion of two of our senior level team members from our Northern Division based in Las Vegas, NV.
Steve Musegades – Senior Vice President, Maintenance Division
In his new role as Senior Vice President, Steve will provide overall daily management of operations and sales for Sunland's Maintenance Divisions.  When asked about his outlook for the new role, Steve replied, "I look forward to learning from the other maintenance divisions and working with them to continue to grow Sunland Asphalt. I will rely on them to help me understand the different markets and discuss what we can do to help them be more successful." Steve joined our Phoenix Division in 2004, and relocated to Las Vegas as a Regional Sales Manager in 2007.  He was promoted to Division Manager in 2009 and has since made the Northern Division one of our most profitable with a great culture and strong team.  Steve will operate out of Sunland's corporate office in Tempe, AZ.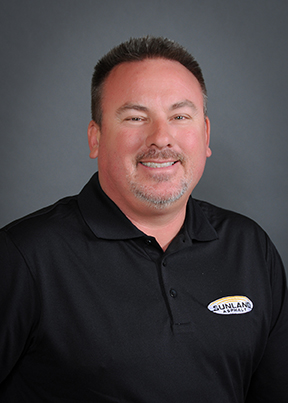 Terry Bartu – Northern Division Manager
Terry Bartu is being promoted to the role of Division Manager, Northern Division.  "Sunland has had tremendous growth over the five years that I have been with the company," Terry stated.  "I'm excited to have the opportunity to be the Division Manager for the Northern Division and follow in Steve's footsteps."  Terry Bartu joined us in 2010 as part of our acquisition of Lamb Asphalt.  He has over 25 years of experience in asphalt maintenance in Las Vegas. Terry will operate out of Sunland's office in Las Vegas, NV.
Both Steve and Terry have contributed a great deal to the success of the Sunland Northern Division. We are extremely pleased with the strength in sales, incredible product and service knowledge and excellent management skills that each of them embody for the Sunland family. Congratulations on the well deserved promotions!