Seal Up the Longevity of Your Pavement with Crack Seal Maintenance!
19 October, 16 / Asphalt Repairs, Crack Seal, Pavement Maintenance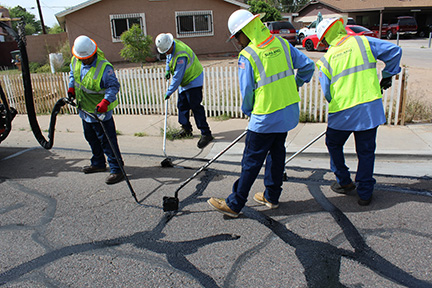 Staying up to date on maintaining your pavement is the best way to preserve the condition of that pavement. One of the most cost-conscious and effective forms of pavement maintenance is crack sealing. While crack sealing will not improve the feel, noise or rideability of the existing pavement, it will often extend the life of that pavement by several years. If cracks are noted and cared for with an aggressive and timely maintenance plan, the longevity of the existing pavement proves to be a worth-while option for pavement budgets. This extended life of the existing pavement can also allow for planning and more significant fund allocation for future repaving projects.
Understanding what causes extreme pavement distress is a key reason crack sealing is such an effective maintenance option. Cracks are often caused by thermal stress, which includes pavement expanding and contracting with seasonal temperature change. The primary focus of the crack seal process is to prevent water from entering the aggregate base and subgrade material beneath the pavement, causing the cracks to become worse or the pavement to deteriorate altogether. Sealing the cracks is the most effective way to make pavement last!
The process of sealing cracks is simple, but vital to execute properly so the pavement is sealed in a secure and lasting manner. Preparation for crack sealing is a crucial part of the process. There needs to be a clean, dry surface for the sealant material to bond to, so all debris (including sand, dirt, rocks, etc.) must be blasted away with compressed air before any work begins. The sealant material is then heated to between 350-400°F using a hot pot that keeps the temperature constant and is self-contained. The hot sealant material is then forced out of the hot pot using a pressurized pump leading up to a hose and wand that apply the sealant to the cracks. The wand used for crack sealing is specially pointed on the end to fill the cracks as much as possible with the sealant.
If cracks are breaking up your pavement plans, call Sunland Asphalt for a free estimate and to schedule crack seal maintenance!  Sunland Asphalt is the most reliable asphalt maintenance contractor in the southwest and our crew is ready to execute any pavement maintenance solution to meet your schedule and your budget.
Contact Our Experts