Selecting a Contractor
06 July, 16 / Asphalt Repairs, Crack Seal, Earthwork & Grading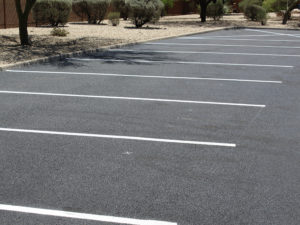 Have you ever counted the number of contractors with whom you do business? The list is long … landscaping, lighting, roofing, pavement, and those are just the contractors for the outside of your property.
While selecting a pavement maintenance contractor can be difficult, there are some criteria you can use to select the best company for your project.
Start with your Network: Use your networking groups to vet potential contractors. A contractor's membership in trade associations shows they are working to building a partnership with your business.
Ask for Referrals: Within your network, ask others whom they would recommend. They can provide valuable, unbiased insight as to how the contractor performed and their overall experience on their projects. Word of mouth is one of the best ways to weed out mediocre contractors.
Research: Start by visiting a contractor's website. A great website will educate potential customers on the company, products and services. Be sure to look for team member bios, market sectors they serve, as well as profiles of projects similar to yours and customer testimonials. Active and up to date social media accounts such as LinkedIn, Facebook and Twitter will also provide additional information.
Meet with the Contractor: Schedule an introductory meeting with the contractor to meet the team. Many contractors are more than happy to schedule lunch and learns with potential customers to discuss the company, products, services and answer any questions you may have. The best contractors find that an educated customer is preferable to one that is uninformed.
Ask the Right Questions: During your initial meeting with a contractor, it is important to ask the right questions. Ask questions about the company, their culture, sales and production teams, estimating, process, procedures, products, equipment, safety, etc.
Walk the Property: Once you've done due diligence, walk your property with the contractor. Many contractors will walk your property, provide an estimate and recommended maintenance plan with solutions that fit your schedule and budget.
When selecting a contractor, leave no stone unturned.   You want to select a contractor with a great reputation, answers your questions, and provides competitive estimates to fit your budget.  Want to schedule a meeting with Sunland Asphalt to walk your property?  Click below to contact our experts!
Contact Our Experts