Smooth Sailing to Wrigley
11 September, 17 / Project Spotlight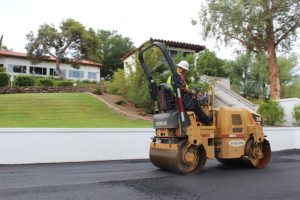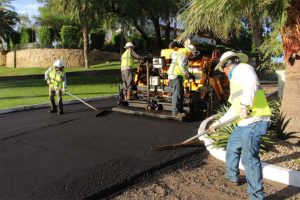 "It isn't every day that you have the opportunity to work on a project with historic ties that is considered a 'Point of Pride' for the City of Phoenix," says Scott Hamilton, the company's senior project consultant. "Sunland was honored to complete the work, taking special precautions during construction to protect and preserve a part of Phoenix history." The 20-year-old asphalt at Wrigley Mansion had weathered, and the damage was creating tripping dangers and liabilities for the landmark location, according to Hamilton. "The new pavement will not only eliminate all of these hazards but also provide a polished look for their parking lot and quality that will remain for years to come," he says. The steep, narrow driveway and tight corners between the parking lots posed unique challenges. "But with coordination between Sunland Asphalt and Wrigley Mansion staff, the project was a great success," Hamilton says.
Sunland performed a complete pulverize and repave of the Wrigley driveway and parking lots, totaling more than 89,042 square feet in mid-July 2017. There were two subcontractors on the project, Asphalt Busters for the pulverizing and Red Zone for the striping.
Wrigley Mansion was built atop a knoll by the Arizona Biltmore resort for Chicago chewing gum mogul William Wrigley Jr. Architect Earl Heitschmidt of Los Angeles designed the home, which cost of $1.2 million. Wrigley presented the 16,000-square-foot home with 24 rooms and 12 bathrooms as a 50th-anniversary gift to his wife. He died the following year at age 70 in the Phoenix mansion. The Wrigley Mansion was the smallest of the couple's six residences, which were located in Chicago; Philadelphia; Lake Geneva, Wisconsin; Catalina Island; and Pasadena.
The Wrigley family sold the mansion in 1973. After several more changes of ownership, the city of Phoenix acquired the estate and was planning to sell it for development when Geordie and Jamie Hormel purchased the property.
The mansion has been restored and is a destination for weddings and special events, and also houses the popular Geordie's Steak restaurant and lounge. Jamie's Wine Bar opened in the completely re-designed library in 2016. Due to zoning regulations, the Wrigley Mansion operates as a private club.
This article was published in the Fall 2017 issue of Arizona Contractor & Community magazine.
For more information on this project, check out the project profile and video.