Summer Pavement Maintenance Checklist
25 May, 18 / Asphalt Repairs, Crack Seal, Overlay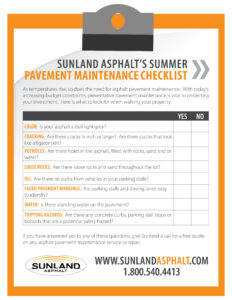 As temperatures rise, so does the need for asphalt pavement maintenance. With today's increasing budget constraints, preventative pavement maintenance is vital to protecting your investment. As you walk your property, here is a list of what to look for when walking your parking lot:

COLOR: Is your asphalt a dull light grey?
CRACKING: Are there cracks ¼ inch or larger? Are there cracks that look like alligator skin?
POTHOLES: Are there holes in the asphalt, filled with rocks, sand and or water?
LOOSE ROCKS: Are there loose rocks and sand throughout the lot?
For the complete list, CLICK HERE TO DOWNLOAD Sunland's Summer Pavement Maintenance Checklist!
If you have answered yes to any of the questions above or on the checklist, contact Sunland for a free quote on any asphalt pavement maintenance service or repair.  
Contact Our Experts