Sunland Asphalt in Washington, D.C. with AGC
26 October, 16 / Community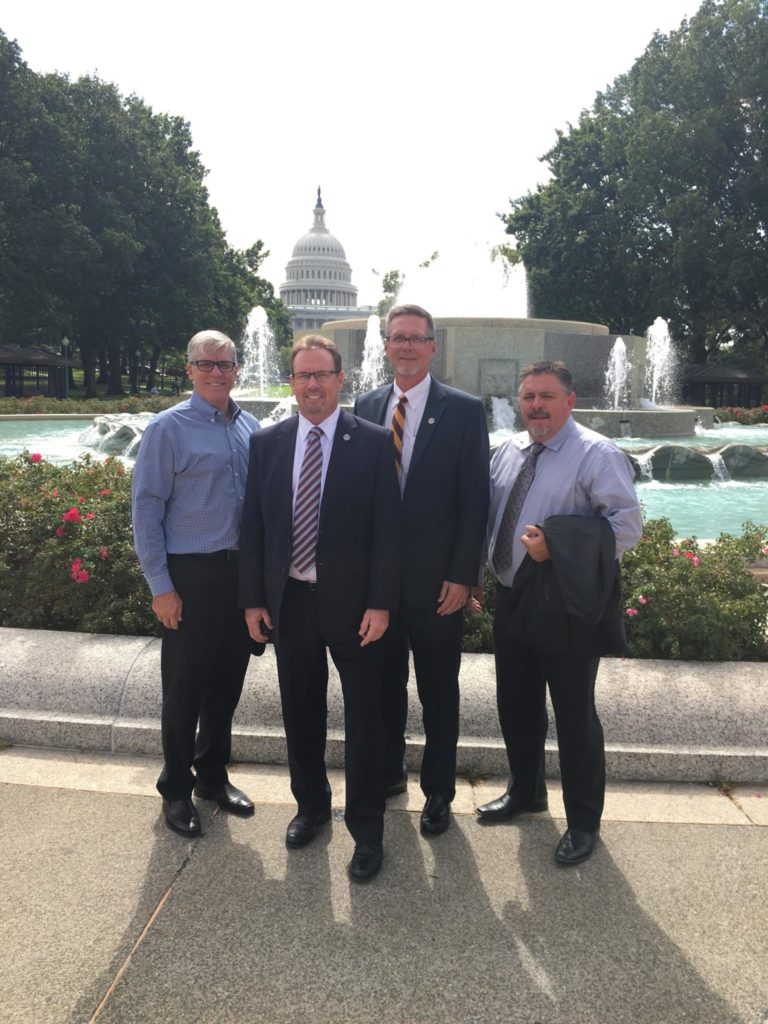 Doug DeClusin, CEO and Owner of Sunland Asphalt, recently spent time in Washington D.C.  with the Arizona Chapter of the Associated General Contractors of America, Inc. (AZAGC). Associated General Contractors of America, Inc. (AGC) is the longest-standing national trade and construction association in the United States and the Arizona Chapter has been influencing the industry since 1934.
One of the primary focuses of AZAGC is advocating for its industry, members and communities through political campaigns. Past proposals to state delegates throughout the years have ranged from industry regulation, to job initiatives, to safety. AZAGC remains politically active to protect the interests of the industry.
A past Chairman of the local Arizona Chapter of AGC, Doug DeClusin was a key contributor to discussions about the status of infrastructure in the United States, funding for projects and protection of industry processes. The four specific issues that were discussed this year with the delegates from Arizona government were as follows:
Fully Fund Federal Transportation Programs & Fix the Highway Trust Fund— Urging congress to make funding for the fiscal year 2017 final for Fixing America's Surface Transportation (FAST) Act, which was approved in 2015. There is also a push from AZAGC for congress to find a permanent, long-term funding source for the Highway Trust Fund.
Support the Lower Santa Cruz River Alliance— The Lower Santa Cruz River watershed needs a flood control project to be executed. With help from congress and local funding, a reconnaissance study has been completed and a feasibility study is in its preliminary stages. AZAGC stressed the importance of supporting and passing the Fiscal Year 2017 Energy and Water Appropriations bill, which includes funding to complete the feasibility study.
BlackListing Executive Order 13673—AZAGC urges congress to support the National Defense Authorization Act's (NDRA) amendment which disallows the government bureaucrat's bias toward prohibiting anyone from contributing to federal projects who has been reported for violations of state and federal labor laws, according to the President's Executive Order.
Support WRRDA Reauthorization—H.R. 3080 provides the means to ease industry initiatives and sanctions appropriate capital needed to maintain infrastructure, including flood control systems, maintenance of general infrastructure and more that keep the US competitive on a global scale.
Senator Jeff Flake, Representative Martha McSally, Representative Kyrsten Sinema and Senator John McCain were among those who met with Doug and the other members of AZAGC this year. The agenda and discussion were well received by the delegates and AZAGC is optimistic that the items discussed will move forward in a way that is healthy for their members and the industry.
In addition to the meetings on Capitol Hill, members of the Arizona Chapter attended the national AGC convention. AZAGC has brought several important items to the attention of the national AGC organization, including the development of Interstate 11, connecting Las Vegas and Phoenix, increasing statewide funding for infrastructure projects, passing a long-term transportation bill, supporting Governor Ducey's proposal to fun the Department of Public Safety, and so much more.
Although this visit was focused on the future of AZAGC, the industry and its members, there were several networking opportunities as well, including a dinner and awards ceremony at the Smithsonian Air and Space Museum, both of which Doug attended.
Involvement and opportunities to represent our industry, like our membership with AZAGC, are reasons among many that Sunland stands out from its competition. Understanding and shaping the legislation we operate under is an important part of our responsibility as a company in this industry.  Thank you Doug and AZAGC for taking the time to make sure we are heard and taken care of on Capitol Hill!