Sunland Asphalt wins a Build Arizona Award from the AGC
08 May, 17 / Awards, Project Award
Sunland Asphalt was awarded a Build Arizona Award from the Associated General Contractors (AGC) of America – Arizona Chapter for the ADOT SR-260 Woods Canyon Lake to Forest Lake project in the reconstruction, rural, under $10 million category.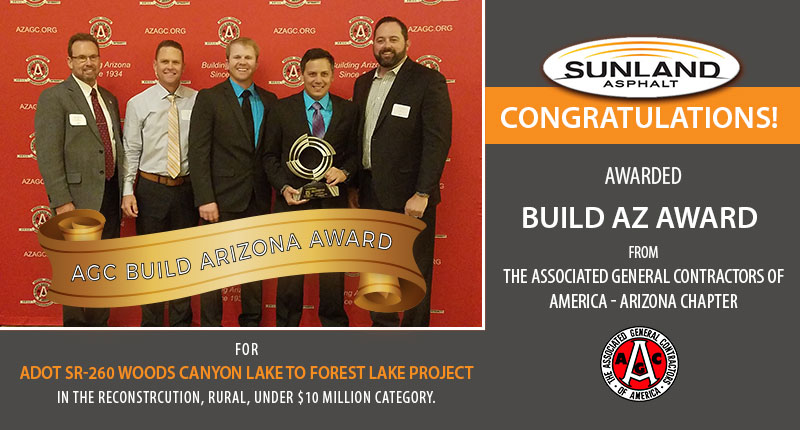 This project was completed ahead of schedule and used only 92% of the contract time.  Additionally, the job was completed almost 10% under budget without any change orders.  Although the opportunity for quality incentives was limited without smoothness or compaction pay factors, over 50% of the mix properties bonus was achieved. No re-work was required on the project and the pavement thus far is withstanding the test of time after surviving a winter season, typically brutal on pavements in this region of Arizona. Lastly, the project was completed without any recordable incidents on the project by Sunland or its subcontractors.  This is a testament to the extensive pre-planning and traffic control measures to ensure the safety of the traveling public as well as our crews.
Working through the challenges of this project would not have been possible without proactive project management from the team including:  Matt Johnson, Division Manager, Manny Martinez, Project Manager, Rick Risner, Estimator, Ryan Smith, Project Engineer, David Noll, General Superintendent, Gary LeSuer, Paving Superintendent and Mike Carrasco, Milling Superintendent.  Thank you for completing another award winning project for Sunland Asphalt.