Sunland Completes Project for the Women's Housing Coalition!
20 January, 21 / Project Spotlight
Last week, Sunland's team in Albuquerque, New Mexico donated paving services to the Women's Housing Coalition (WHC).  The WHC organization provides low rent in WHC owned housing units to single mothers working toward independence, personal growth and financial stability. In conjunction with other non-profit agencies, churches and social workers, the WHC also helps women access additional community resources like legal assistance, child care, resume preparation and counseling for both women and children.
Because the WHC does not receive any federal or state funding, their main source of funding is from rent collected from tenants, proceeds from a local thrift store, charitable donations and fundraising events.  Due to the COVID-19 pandemic, annual fundraising events had been cancelled.  While the WHC was able to maintain housing operations for current residents, some of the major repairs and maintenance needed for their housing units were not possible.  The parking lot at one of their units is in dire need of asphalt repairs; however, it was not in the budget.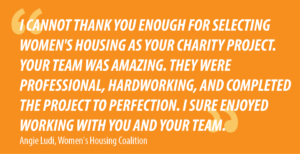 That's where Sunland stepped in, partnering with Vulcan Materials and Accustripe to complete the parking lot repairs free of charge.  "The project entailed a 2,200 SF area and about 40 tons of asphalt material," said Tim McWenie, New Mexico Division Manager.  "We had Accustripe repin six parking blocks and stripe to existing pattern."
We would like to thank the Sunland team, as well as our friends at Vulcan Materials and Accustripe, for their time and resources to complete the parking lot repairs for the WHC.   Thank you to Angie Ludi with the WHC for the opportunity to serve, giving residents a new and improved parking lot.  We look forward to a continued partnership with the WHC and making an impact in our local community in which we live and work.  For more information on the WHC and to learn about opportunities to get involved with this organization, please visit www.womenshousingcoalition.com