Sunland Demos Sustainable Pavement Methods at ASU
17 November, 16 / Community, Nova Chip, Pavement Maintenance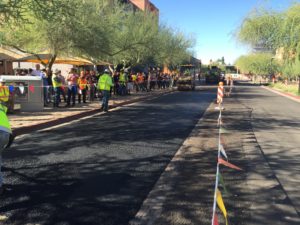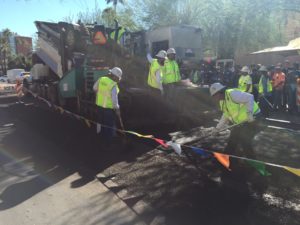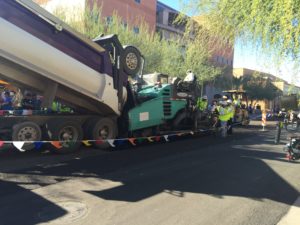 On Tuesday, November 15th, Sunland participated in the 13th Annual Arizona Pavement/Materials Conference at Arizona State University.  In association with the Arizona Department of Transportation (ADOT), the Federal Highway Administration, Arizona Association of General Contractors, Arizona Pavements/Materials Conference and ASU Advanced Pavement Research Group, Sunland demonstrated one sustainable pavement maintenance solution, Ultra-Thin Bonded Wearing Course or NovaChip.  Sunland's Rick Risner provided information on the NovaChip process to a group of 150 attendees as they watched the application live on Orange Street and McAllister Avenue in Tempe, AZ.
Later that afternoon, Rick Risner and Chance Cherry sat on a contractor's panel for the FHWA R26 Preservation for High Traffic Volume Roadways Workshop, presenting materials and fielding questions from attendees in a Q&A session.
For more information on the conference, click HERE.