Sunland Names Craig Weems President and COO
19 July, 17 / Careers, Meet the Expert, Our Experts
Effective July 2017, Sunland Asphalt & Construction, Inc. has named Craig Weems the President and Chief Operating Officer. As President and Chief Operating Officer (COO), Weems will be responsible for the Company operations for Sunland's eight (8) construction and maintenance divisions in six (6) locations, as well as Fleet, Marketing, and Safety departments.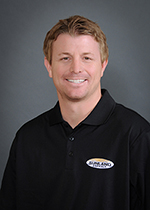 Craig is a twenty year veteran in the construction industry with eleven years at Sunland Asphalt. He has been instrumental in the exponential growth of the company, diversifying Sunland's  niche from a strong asphalt maintenance contractor to a general contractor in the marketplace. Craig has positively influenced both maintenance and construction operations, through acquisitions as well as the inception of Sunland's Public Works and Civil Divisions. Weems has focused on Sunland's safety culture, ensuring all resources are available to implement and execute a world class safety program to deliver safe, high quality projects on time and on budget. When asked about his new position, Craig said "I am humbled by the opportunity to serve the greatest group of professionals I have ever been associated with. Our Chief Executive Officer (CEO) Doug DeClusin has clearly communicated his Vision for the company; and I am confident our team will execute his Vision, while maintaining our Values every step of the way."
Doug DeClusin, who founded the company in 1979, will continue to serve as the CEO. While he will no longer lead day to day operations, Doug will play a vital role in strategic growth initiatives and participate in industry organizations such as the Associated General Contractors of America – Arizona Chapter. "Craig has proven to be a successful and trusted leader bringing a strong reputation for developing people and building business. His wealth of experience will be a valuable asset as we continue to grow the company," said Doug DeClusin.
For more information about Craig Weems, click HERE.