Sunland selected for the City of Phoenix Pavement Restoration Services 2-Step Job Order Contract (JOC)
24 May, 17 / Awards, Paving, Sunland Asphalt
Sunland Asphalt was one of the contractors selected for the City of Phoenix Pavement Restoration Services 2-Step Job Order Contract (JOC), Project No.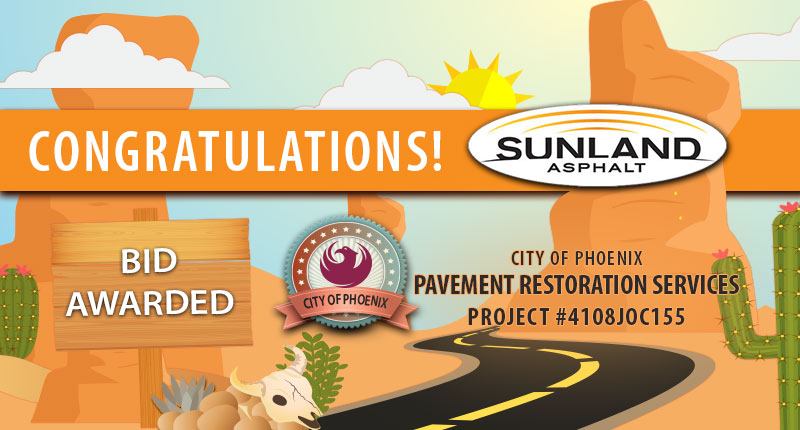 4108JOC155.
This JOC includes construction services including but not limited to:  Arterial, Major Collector, Minor Collector and Residential Pavement Overlay, crack seal program, slurry seal program, microseal program, Tire Rubber Modified Surface Seal (TRMSS), Polymer Modified Masterseal (PMM), Fractured Aggregate Surface Treatment (FAST), scrub sealing, fog sealing as well as any other services required by the City of Phoenix.  This JOC will be for a 36-month duration or $30 million per JOC, whichever occurs first. The JOC will include an option to renew, based on: the Contractor's satisfactory performance, the City's need for additional services, and funding availability. The option to renew will be for an additional 24-month term or the balance of the maximum contract amount of $50 million including all JOC amendments.
This is the second time Sunland has been awarded and held this JOC with the City.  For the City of Phoenix alone, Sunland currently holds or have held four different JOC's over the last five years and has completed over $40 million worth of work during that time.  Sunland has completed more than 550 JOC projects totaling approximately $80 million in the last five years.
We look forward to continuing our strong partnership with the City of Phoenix! Congratulations to the Sunland team!