The Pavement Life Cycle
20 July, 16 / Asphalt Repairs, Crack Seal, Overlay
For every property manager, understanding the pavement life cycle is essential to budgeting for service and avoiding costly repairs.  By ensuring your asphalt is properly maintained, you will be rewarded with cost savings and attractive, long-lasting roads and parking areas.
Below is a chart that breaks down asphalt age in stages: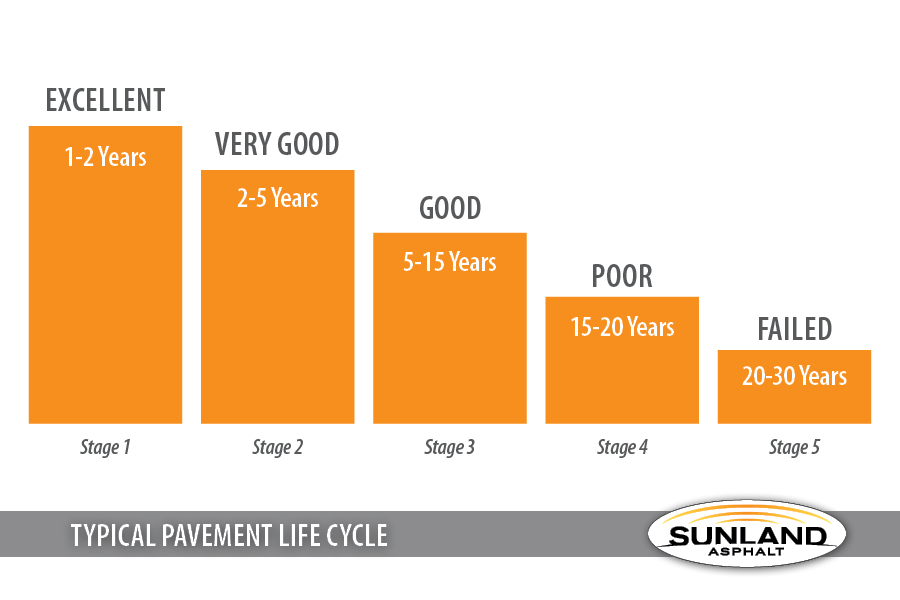 Stage 1 (0-1 Years ): Little or no maintenance is required
Stage 2 (2-5 Years): Initial Preventative Maintenance is recommended including sealcoating, crack sealing and patching
Stage 3 (5-15 Years): Minor Repairs and Continued Preventative Maintenance should be performed including patch repairs, crack sealing, and sealcoating
Stage 4 (15-20 Years): Major Repairs may be needed including extensive patching repairs and asphalt overlay
Stage 5 (20-30 Years): Extensive Repairs or Complete Reconstruction may be needed to include complete removal and replacement of asphalt
For over 37 years, Sunland Asphalt has completed pavement maintenance projects ranging from crack sealing to complete reconstruction.  Our crew is ready to execute any pavement maintenance solution to meet your schedule and your budget.  Click below to our experts today for a free estimate!
Contact Our Experts