The FAIR 46 and Consolidated 32 Project Groundbreaking
13 March, 18 / Project Spotlight
On February 27, 2018 at 12 P.M., Sunland Asphalt & Construction, Inc. (Sunland) and members of the White Mountain Apache community, including Chairman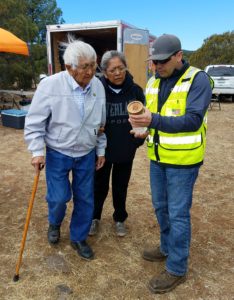 Ronnie Lupe, broke ground on their newest collaborative project. Committee members, individuals from the White Mountain Apache community and Sunland staff were on Colelay Road to celebrate the kick off of the project with a groundbreaking ceremony and grill-out.
The FAIR 46 and Consolidated 32 Project involves new road construction, as well as significant improvement and maintenance repair of several community roads, including:
Skidmore Road
1st Avenue A
1st Avenue B
1st Avenue C
Round Top Road
Colelay Road
Goklish Road
Kasey Road
Turkey Creek Road
Fair 46 (Fort Apache Road)
The Consolidated 32 phase of this project has several road building components, including new road installation for First Avenue C, which will run parallel to State Route 73 through the White Mountain Apache community. Sunland will also be building up several existing rack roads with ABC to improve general public travel and accessibility throughout the community.  Skidmore Road, Round Top Road, Kasey Road and Goklish Road will all receive new cattle guards and drainage pipes, while all roads listed above will have new drainage ditches installed. Turkey Creek Road will also have a 54' x 8' x 4' box culvert that will be installed in 2018. A significant portion of the project will involve tree clearing, as many of the new roads being constructed are not yet established.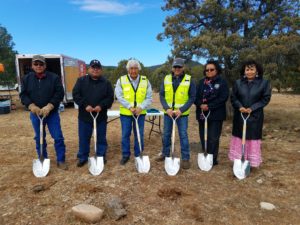 Fair 46 (Fort Apache Road) phase of the project will include a 4.6 mile long mill and pave of the existing pavement from Indian Route 55 to State Route 73. This will be an overall asphalt surface improvement for this heavily traveled road, and will help sustain the condition and structure of the road long-term.
Sunland is thrilled to continue the development of their relationship with the White Mountain Apache community. They will continue working together to improve the existing infrastructure in the White Mountain Apache territory, while expanding accessibility to new stretches of the community.