When products are mass-manufactured, it is often cheaper to buy a new one than repair what's broken. With handmade objects, the opposite is true. Pavement projects may not be what comes to mind with the term "handmade," but that's what they are: objects made by hand using special tools. Like other things in this category, pavement is more expensive to replace than it is to maintain, and a well-maintained parking lot or roadway not only lasts longer but looks nicer as well.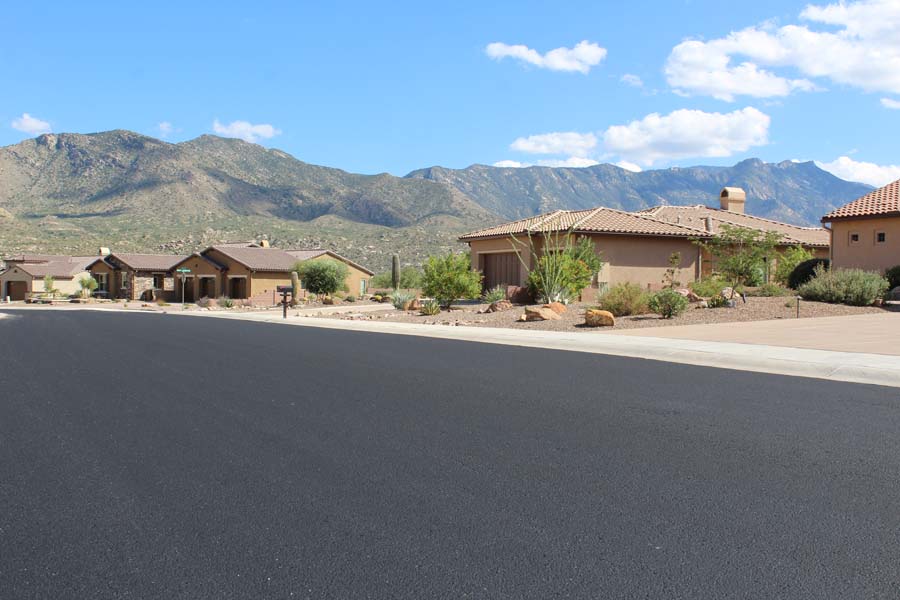 While most may not consider parking lots and roads to be works of art, we at Sunland Asphalt take pride in our work and what we create. We pour our best skills, knowledge and plain old hard work into each project we take on; that's why we've been around for nearly 40 years, and that's why our customer base continues to grow.  If you are a commercial property manager, we'll work with you to develop a cost-effective maintenance plan for your parking lot that can extend its life and keep it looking good.
Extending Pavement Life
Continual exposure to the elements takes a toll on asphalt. Heat and cold cause it to expand and contract in a never-ending cycle that eventually causes cracks. Don't ignore those fissures; they need to be sealed to prevent further deterioration. Left unsealed, cracks can widen over time, beginning a chain of problems that could leave you with the need to replace your asphalt before it is time. Cracks allow water to reach the road base and even further, the sand beneath, which can erode the supporting structure and lead to ground shifts that cause pot holes and structural failure.
There are a variety of repair and maintenance measures that can help extend the life of your pavement and save the cost of early replacement:
Crack seal: Hot sealing material is poured into the crack until it reaches street level.
Sealcoating: A coating is applied to protect against oxidation, water, sun, oil and gasoline.
Bonding: A surface treatment lays down adherent, followed by asphalt, then compacting.
Chip sealing: Sealing cracks and applying a stress-absorbing membrane for a waterproof seal.
Milling: Cutting out a depth of asphalt from the trouble area, applying adherent, then asphalt to fill the hole.
Keeping Down the Costs
Regular maintenance and repairs sooner rather than later can save you on expensive replacement projects. There is no reliable way to estimate the cost of a pavement project until all the variables are known, including the depth of the asphalt to be poured. Many factors go into building and repairing parking lots:
Size and design: A large retailer needs a large lot to accommodate parking, while a fast-food restaurant needs a smaller lot, usually with a drive-through. An apartment building complex may need to include covered parking for its residents.
Preparation: Is the site cleared of trees and structures? If not, this adds costs for site preparation. For roads, is there existing roadway that needs to be removed?
Materials: Costs may vary depending on the market and where the site is located.
Labor: Wages are typically higher in large cities, which can affect the project cost.
Equipment rental: Larger or more complex projects sometimes need special equipment.
In addition to these elements, parking lot paving quotes can include curbing and landscaping, line painting, lighting and security gates, if any. The professionals at Sunland Asphalt will discuss these details with you, inspect the site and then develop a cost estimate. We'll work with you throughout the project to meet your budget and your needs. For example, we can work at night so you can accommodate daytime shoppers.
Keeping Up Appearances
Another important reason to maintain your pavement is simply to keep up a good appearance. A poorly maintained parking lot can reflect poorly on your business, just as potholes in a road reflect on the city or state in charge of maintaining it. Any retailer can tell you that sales are all about appearances. A well-kept parking lot provides a more appealing, welcoming environment for customers; if they have to dodge potholes in the parking lot, they just may find another, more inviting place to shop.
Partnering with Sunland Asphalt to maintain your parking lot can save you money overall by extending pavement life while keeping up appearances. For a free estimate, visit us online to submit a quick and easy contact request.