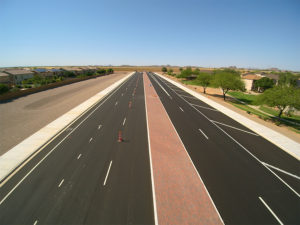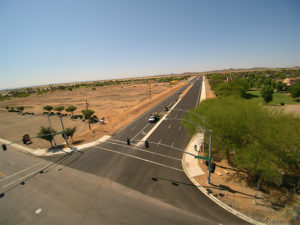 We've all been stuck in slow moving traffic while trying to get to our job. But what do you do if your work consists of improving the roadway on which all that traffic is traveling? This was the issue Sunland Asphalt and Sealcoating experienced on the Hunt Highway Widening- Phase 3 project.
"Some challenges arose throughout construction, but I would say the sheer volume of traffic was the most difficult thing to deal with," says Sunland Project Manager Chris Eischen. "Hunt Highway traffic slows from about midnight to 2 a.m., and at all other times, it is near bumper to bumper. This project intends to alleviate this traffic. However, dealing with it during construction has been difficult at times."
The full reconstruction and widening of Hunt Highway from Gary to Bella Vista roads started in January 2016. The project includes curb, gutter, and sidewalk as well as Pinal County's first storm drain system. Previously, Hunt Highway was a two-lane road with sheet drainage to a dirt shoulder.
Eischen noted the complications involved with the turnaround and delivery time for trucking of asphalt and the aggregate base, the construction of a housing development and business entrances with only one point of ingress/egress, and performing striping and traffic switches.
The application of geogrid was, personally, the most unusual part of the project for Eischen. "I had used geogrid to remedy soft subgrade, but never throughout the entire span of the roadway," says Eischen. "The specified application was for geogrid to be placed on compacted subgrade, then plated with varying depths of aggregate base, followed by the courses of asphalt."
Eischen was pleased with Sunland's subcontractors. These included CPC Construction for concrete flatwork and small structures, TLL Electric for signal work, NBC for traffic control, ELS Construction for landscaping, Canyon Country for trucking, PMI for striping, Preach Inc. for storm drain manholes, On It Construction for utility adjustments, EPS Group for survey work, and ATC Associates for quality control.
One of the project's greatest successes was the relationship formed with the owner, Pinal County, according to Eischen. "Working with the management and inspection team has been a pleasure. This project was an example of partnering at its finest."
For more information on this project, click HERE.
This article was published in the Spring 2017 issue of Arizona Contractor & Community magazine.